Comprehensive and independent thermal imaging analysis of the main features, performance, and imaging system architecture of the InfiRay Micro III camera core.
Thanks to multiple drivers, the market for infrared thermal imaging cameras and modules is
expanding rapidly, with a multiplicity of products on offer.
There is, therefore, a need for users, integrators, and sensor manufacturers to be able to discriminate between available products based on accurate and independent assessments of their performance and features.
This report is the fourth of its kind, focused on helping thermal imaging camera and module market actors to better understand the characteristics of such products, enabling better strategic decision making.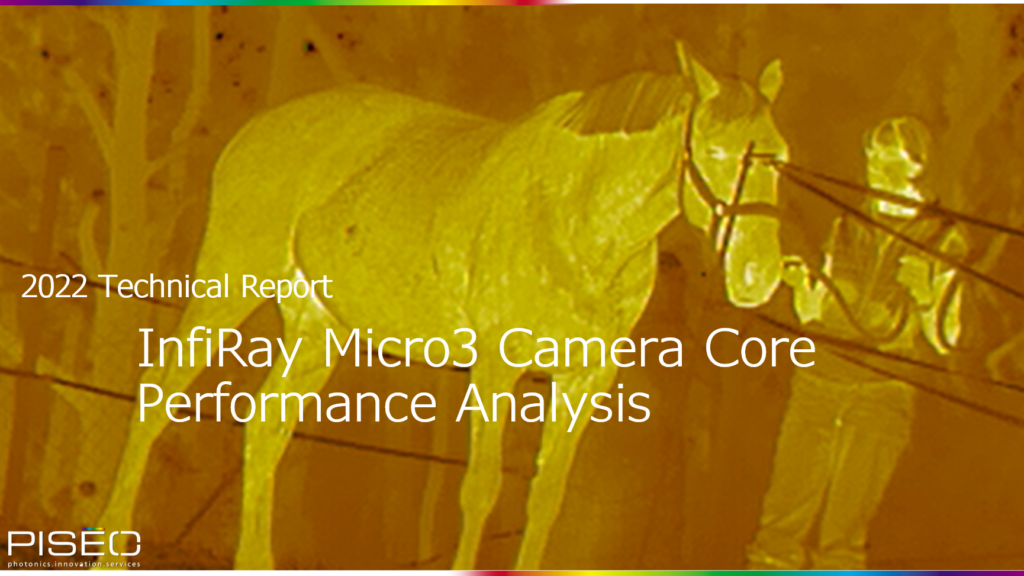 PISÉO's finding's about InfiRay Micro III Camera
The Micro III camera module as tested by PISEO contains a strongly performing bolometric sensor, producing good quality images with low numbers of bad pixels. Unfortunately, the image quality is not enhanced well by the image processing firmware, which contains basic tone mapping functions but with errors on some of them. From a user's perspective the software platform is not supportive enough to get the best out of the camera's potential.
Compared to the Boson camera module from FLIR, which is a reference product in this field, the Micro III module is based on a higher quality sensor which should provide good image quality in many user cases. However, InfiRay's algorithms for signal correction and image processing, which make the Boson camera's approach interesting, largely underperform. The system engineer may be surprised by how difficult it is to reach the sensor's potential.
The impression one gets from the analysis of the Micro III is that this module is better for internal InfiRay applications than for external ones. The multiple user interfaces and the approximation of the software tools suggests case-to-case improvements inspired by specific application contexts.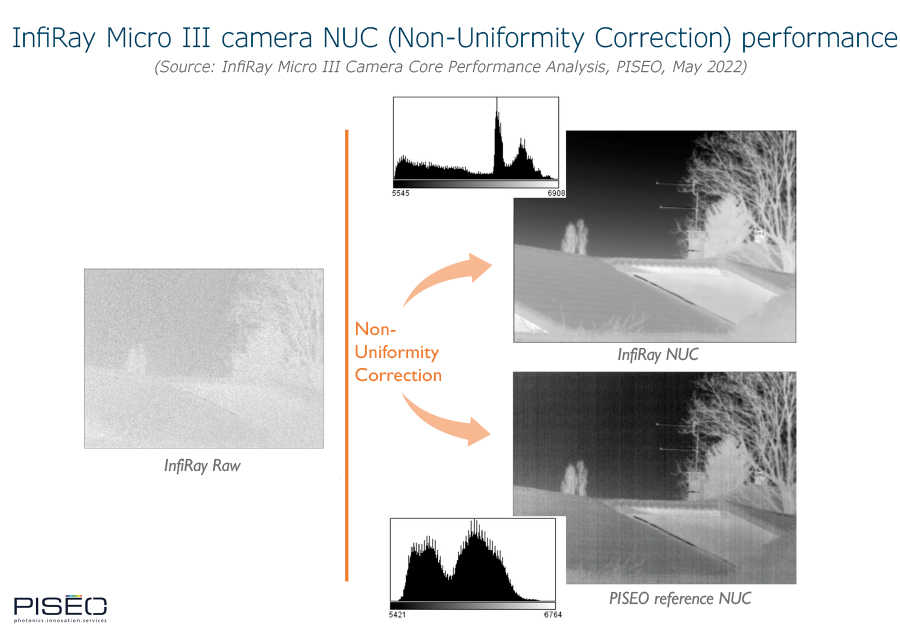 Objectives of this report
Today, there is no independent thermal camera performance analysis covering both bolometric sensor and image precision and characteristics.
Based on PISÉO's characterization standards, the thermal camera analysis from PISÉO aims to:
Verify the performance values communicated by the manufacturers,
Compare performance with other thermal cameras,
Study performance in different conditions.
This analysis is aimed at sensor designers, system architects, marketing teams and sales teams.
This report presents :
•An analysis of the user functions of the camera
•An analysis of the measured performance parameters of the embedded microbolometric sensor
•An analysis of the measured thermometric performance and optical architecture of the camera
•An analysis of the sensor correction functions and algorithms
•An analysis of the image processing flow from sensor to image, as well as an assessment of image quality
•Our opinion of the camera's features and performance
•A fair comparison of the product's performance against other marketed products
Related reports about camera analysis
More reports will come soon which will allow fair product features and performances comparisons: Guide sensmart, HIK Vision… cameras and modules.
PISÉO has participated in the publication of other reports, notably with YOLE DEVELOPPEMENT, the market research and strategy consulting company.
Other related reports :