An interview with ams OSRAM, PISEO and Yole Développement
The current health crisis, with COVID-19 pandemic is causing an extreme high demand for disinfection solutions. Among these, devices using UV-C radiation are experiencing renewed interest. We see a lot of communication on this subject, from press releases developed by industrial companies to articles in media.
According to the market research & strategy consulting company, Yole Développement (Yole), in 2019, the UV-C LED market was rather small, reaching $108 million.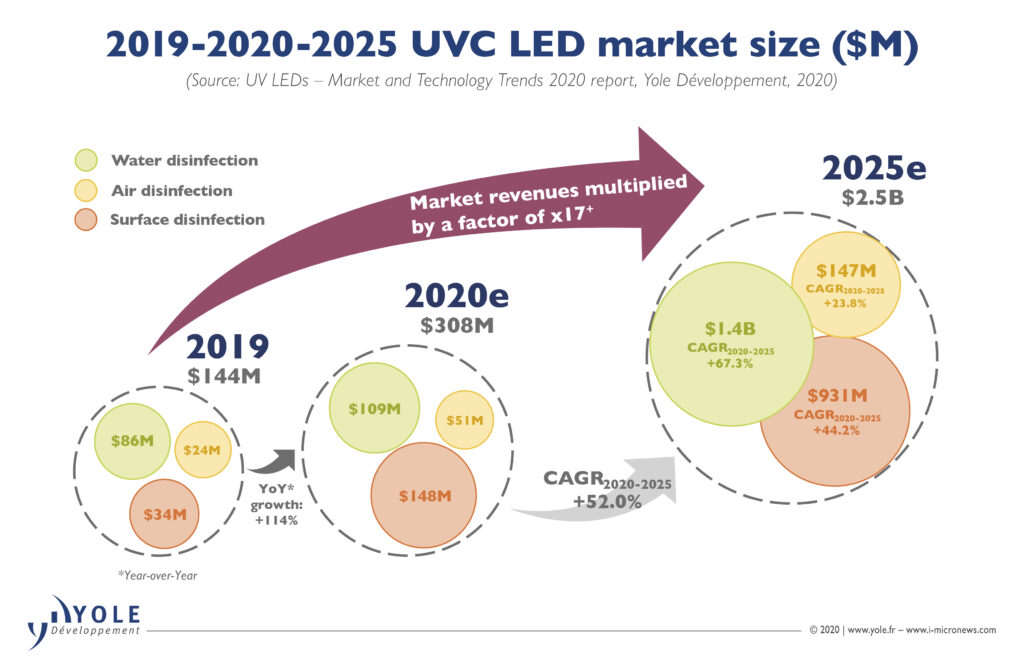 However, to respond to growing concerns about the spread of the COVID-19 virus, lot of companies have started to use UV light. Idea was to eradicate any possible germs and deal with the pandemic. Facing this demand, lot of industrials decided to develop innovative solutions. This had, for sure a positive impact on the market in 2020 which has more than double.
ams OSRAM, PISEO and Yole had the opportunity to share their vision on the latest UV developments and market evolution.
Dr. Christian Leirer, Director for Product Management, Dr. Hans-Jürgen Lugauer, Senior Manager, both at ams OSRAM, Pars Mukish, Business Unit Manager at Yole and Joel Thome, CEO of PISEO, debated together, shared their expertise and revealed today their vision of the UV LED industry, with the COVID-19 behind.