The Auvergne-Rhône-Alpes region is one of the most innovative optics and photonics ecosystems in France. An impressive 25% of France's photonics R&D is conducted here, positioning the region second in the nation. The Auvergne-Rhône-Alpes region is also home to several hundred companies (including numerous startups), technology transfer organizations, and research institutes specializing in photonics.
The region's optics and photonics industry is valued at around €18.5 billion, with the lion's share of revenue generated by five main segments: core components (detectors, imagers, light sources) and materials (thin films), envirotech and energy (presence detectors, lighting, photovoltaics), medtech (X-ray and laser diagnostics, medical imaging), defense and security (measurement and vision systems), and, finally, manufacturing (cameras, surface treatments, laser systems). Digital technology cluster Minalogic plays a pivotal role in the region's photonics ecosystem. The cluster helps all of its stakeholders make business connections faster through targeted, qualified introductions and creates opportunities for its members to innovate and grow at the national, European, and international levels. Since 2005, the cluster has certified and helped secure financing for 709 digital innovation projects for a total of €932 million in government funding and a total R&D investment of more than €2.3 billion, with 27% allocated to photonics projects. Minalogic's unique community is made up of more than 450 stakeholders from academia, research, and government, as well as investors.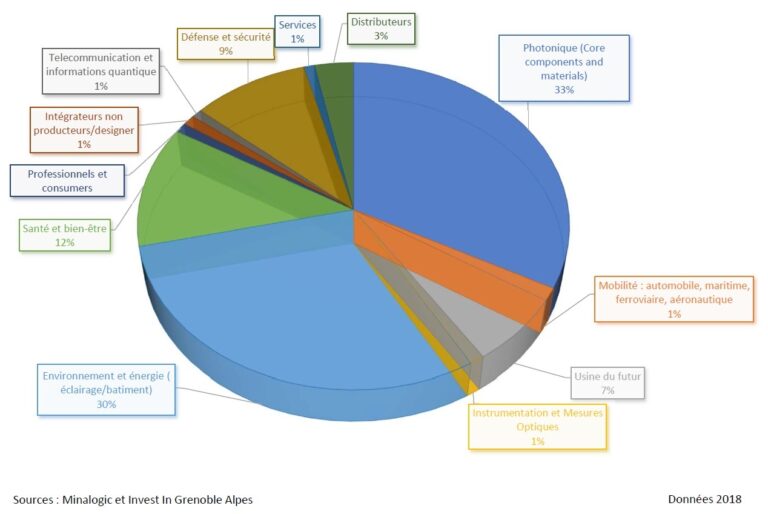 The region's photonics industry
The Auvergne-Rhône-Alpes region's photonics industry is especially vibrant. The region is home to more than 1,000 companies of all sizes (startups, SMEs, mid-caps, corporations) addressing all photonics market segments and spanning the entire photonics value chain. These companies employ around 73,000 people. The region is also home to companies that develop and manufacture materials. For example, Arkema manufactures polymers used in optical components like lightguides and diffusers; Baikowski specializes in nanotechnology for lighting applications. ADDEV Materials and 3D-Oxides also bear mentioning. In terms of surface treatment, HEF in Saint-Etienne is a global leader in substrates and deposition for opto-photonics. On the components segment, the Grenoble area's top-notch ecosystem is home to imaging, 3D sensor, and semiconductor leaders like STMicroelectronics, Teledyne e2v, LYNRED, Aryballe Technologies, Trixell, Soitec, and Pyxalis. These companies' products are found in consumer and commercial-grade electronics made by the world's leading manufacturers. Gaggione and Marmillon manufacture industrial polymer components (lenses, lightguides, reflectors) for optical systems. Manufacturing companies Qiova, Teem Photonics, Alpao, Cristal Innov, Insidix, and Tiama are also an integral part of the region's photonics ecosystem. The region also counts numerous subcontractors that design and manufacture subsystems and systems incorporating photonic components for OEMs. Electronic and mechanical engineering firms e.re.ca, EFS, Onwy, Centralp, and Cedrat Technologies are a few examples.
Metrology is also one of the region's strengths, with companies like Altimet, Data-Pixel, Device-Alab, Expertise Vision, and Resolution Spectra System. The region is also home to many buyers of photonic components and systems. Companies like Angénieux (a Thales company), Optsys, Newtone Technologies, Vision Systems, Crouzet, Groupe Seb, EDF, Schneider Electric, Lumiplan, Radiall, la Manufacture des Lumières, X-Fab, Selux, Weef, Red, Sylvania, Cellux, and Sunlux all integrate photonic functions into their products. Last, but not least, the greater Lyon intermunicipal authority (Grand Lyon), the French government, and businesses in the region joined forces to create a photonics innovation center. Unique in France (and in Europe), PISEO, founded in 2011, is a simplified joint-stock company (SAS under the laws of France). The company possesses an accredited optical metrology laboratory that can be used by manufacturers across the photonic systems value chain and by research laboratories to accelerate their innovation projects and support their research. PISEO, through a network of partners, can also offer additional services like technical analyses, design, production, and performance testing of photonic components, subsystems, and systems.