> 2021 january : PISÉO published a new report " FLIR Boson thermal camera performance analysis".
In the current context of health crisis due to the SARS-CoV-2 virus (COVID-19), the number of temperature measurements of people has skyrocketed.
Therefore, the market for infra-red thermal imaging cameras and modules is expanding at a rapid pace. Our partner Yole Développement expects an 8% compound annual growth rate from 2019 to 2025 (CAGR2019-2025). Many new players, especially from Asia, have already started to disrupt the market.
How to discriminate between products in a booming market ?
Following the positive feedback of its successful first report "iRay T3S Thermal Camera Performance Analysis", PISÉO's team now reveals how the successful FLIR Boson camera module performs, from sensor detection through to image production.
It relies on robust and comprehensive test protocols and thorough analyses of the test results: responsivity, NETD, scene dynamic, operability…
Thermal camera : test protocols and findings
In order to characterize the camera performance, PISÉO's experts use their own test protocols,
software, and lab equipment, which includes a calibrated HGH black body and climate chamber
able to perform tests at ambient temperatures ranging from -20°C (-4°F) up to 100°C (212°F)
PISÉO needed to develop an extensive process to assess the performance, starting with
the ability to communicate with the bolometric sensor and to produce raw images using our own
code. This first step allowed a set of typical performance indicators to be produced in a reliable
and consistent manner, such as responsivity, NETD, scene dynamic, operability and others.
These could then be compared with the rated data supplied in the FLIR datasheet and also with other marketed cameras. It was interesting enough to find a significantly higher NETD value than the one published by the manufacturer but also a significant number of bad pixels.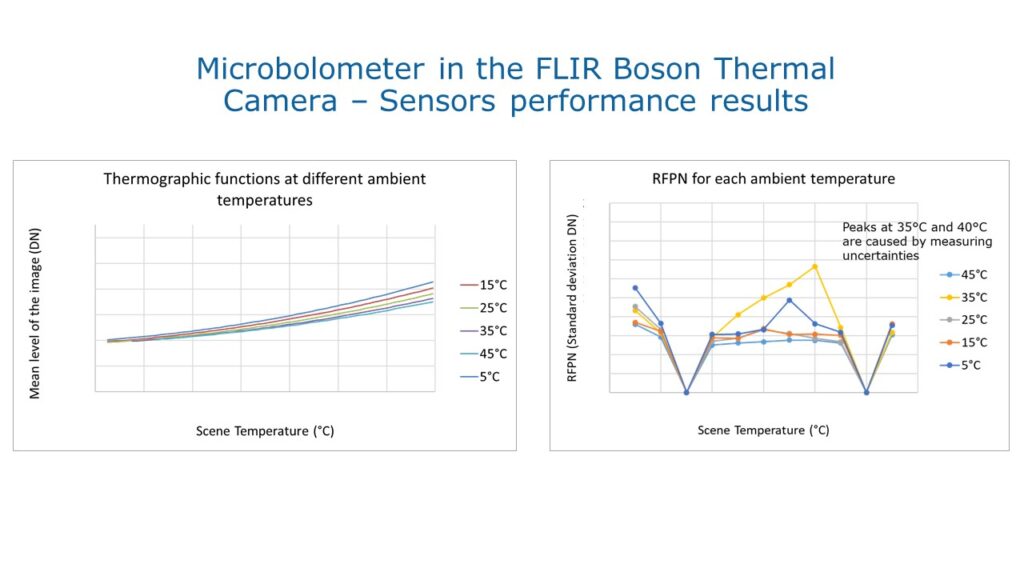 Thermal camera: more reports to come
More reports will come soon which will allow fair product features and performances comparisons: Seek Thermal, Guide sensmart, HIK Vision… cameras and modules.
PISÉO has participated in the publication of other reports, notably with its partner YOLE DEVELOPPEMENT, the market research and strategy consulting company.
Other related reports :
IRay T3S Thermal Camera Performance Analysis
Thermal Imagers and Detectors 2020
Guide Infrared's 17µm Microbolometer Module